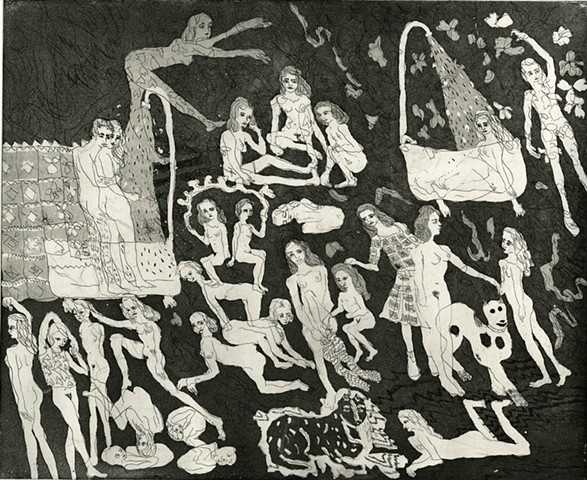 Artist as choreographer: bodies reach, huddle, curl, bend. An adolescent girl shrinks inward, pigeon-toed; the elongated arms and legs of a woman stretch, elastic. Olivia Wendel's paintings and textile designs depict the emotive female body. Arranging her figures like a choreographer, Olivia expresses much in these varied "dances." Drawing from childhood memories of her family, and in particular the experience of being one in a pair of twins, Olivia is fascinated with the ways in which memory and pain are both contained and expressed by the body. Family histories are recalled vividly as images emerge from her brush in bold color. Figures sway like river weeds under the pressure of heavy water, each bringing with her a secret, a betrayal, something lost or broken.
Inspired by the formal aspects of ballet and circus, Olivia studies the ways in which the human body conveys primitive, raw emotion; how truth can be laid bare in the crossing of an ankle or the tilt of a face. By combining two primary disciplines of visual storytelling, dance and painting, Olivia mines a rich methodology of self-expression. Pulling from her own memories of love, pain, and even trauma, Olivia's paintings can be viewed as a series of self-portraits revealing a personal mythology.
Repeated motifs reference the domestic realm as well as sexuality: a particular bathtub and a geometric, patterned carpet; wild animals, and the nude female body. Mother, daughter, sister, twin; these are the primary characters in Olivia's stories. Not only are the characters central to the work, so are the relationships between them. Each fragmentary figure fits into a movement playing out across the canvasses, isolated and yet part of the whole scene. In choreographing these "dances," Olivia re-inserts herself into psychological narrative, and in doing so, uncovers deeply felt emotion.
-Frances F. Denny, 2013